It's easier in a crowd.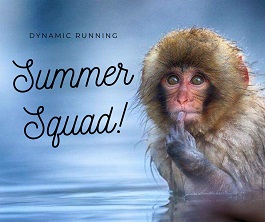 The Squad is exclusive to Dynamic Running club members. Register here.
The Squad aims to help participants train for their first or next 10km, half marathon and marathon. The goal is to learn to run faster or further, or both!
Requirements:
Registered for the Squad.
Base level of fitness/distance to cope with the program you are interested in
What you get:
Lorraine's Training Guide
Training program – if you want one. These programs are available free of charge for anyone who would like it. You don't need to be a Squad member to access it.
Various group training options
Access to the Facebook group / Messenger group
Pep talks/Workshops on various topics – Exclusive to Squad members
Squad training singlet – Exclusive to Squad members
Weekly email updates – Exclusive to Squad members
Cost:
$65 for Squad + singlet
$30 for Squad only
Who will benefit?
This squad will suit you, if you are willing to commit to the following:
attend as many of the group sessions and workshops as possible (you can participate as a virtual group member too)
adopt the right mindset – only by doing this will you get out of bed early on a dark, wet Sunday morning to tackle a 21 to 32 km training run!
make the needed adjustments in your lifestyle, for example, to your diet and family commitments
support your fellow squad members by contributing to the Facebook group set up for the Squad members exclusive use
keep a record your runs and distances
wear your Squad singlet with pride
Included in the squad fee
expert advice and support from qualified coaches to build you up to your 10km half marathon, marathon or ultra
Dynamic Running training sessions
EXCLUSIVE entry into all Dynamic Running workshops from January to April 2020 – see details below
Access to the Dynamic Running Squad Facebook group set up for Squad members to support each other
a personalised running program to take you to the start line of your target race
Lorraine's Squad Training Guide with running tips and advice to keep you motivated
a Dynamic Running Squad training singlet.
The target races are
Dynamic in a Dress Half Marathon or 10km, 19 April 2020 (Dynamic Running event)
Cairns Marathon, 12 July 2020 (Dynamic Running event)
Gold Coast Marathon, 5 July 2020
Fig Tree Half Marathon, 11 July 2020 (Dynamic Running event)
Tailwind Nutrition 3M3D, 10-12 July 2020 (Dynamic Running event)
any other race coming up in the first half of 2020
Squad training sessions
This will depend on the needs of the group and can include:
Technique training
Intermediate Runners' Clinics
Group training sessions
Long runs on Sunday mornings
Note that these sessions may have other participants too, it is not exclusive to squad members.
Pep talks
Tuesday mornings, 5.15-5.30am. This will be important for those that have not done the squad training before, and for those who want to brush up on the latest developments on how to train efficiently.
Speed work
Mental toughness
Grit
The long run
Tempo running
Fartlek
Enlisting the help of others
The right gear
Race knowledge/tactics
Tapering
Race day
What's next?
Workshops
These are interactive sessions that may include a specialist guest speaker and question/answer sessions. No running required! Exclusive to Squad members.
Topics will depend on the needs of the group and may include:
Training phases
Support/Mental toughness
Weight training
How to design your own training program
Rest and Recovery
Nutrition
Injury prevention
Race preparation – gear list – where to buy
The playlist
Podcasts
Treadmill running
Heart Rate; Training guides: Heart rate monitors GPS watches
Women running
Shoes
Trail running
How to look after your feet