'Running is one of the greatest metaphors for life, because you get out of it what you put into it.'
Dynamic Running Ltd. aims to inspire runners into a life-long passion for running. The company limited by guarantee was created in April 2014 as a not for profit organisation to promote running, and in particular group training for runners in the Cairns area. We are based in Edge Hill, and we also offer clinics at selected venues around the region. We link runners with runners. We have a few signature races during the year, but most of the time we just run.
What's on your 'bucket' list? Once you get started with Dynamic Running, we predict that your list will become longer, as you try to fit in as many running events into your schedule as you can!
Whether your goal is to get fit, lose weight or run your first 5km, we can help you. Or you might be bit more ambitious, aiming for your first half marathon, marathon or beyond. Our members travel far and wide to compete in running events, while others are trying out their first 5km through to Ultra Marathons here in Cairns.
We encourage club members to dream of what they want to achieve, and set their goals based on that and not limit themselves. We've learnt that the human body is capable of much more than we can ever imagine or give it credit for.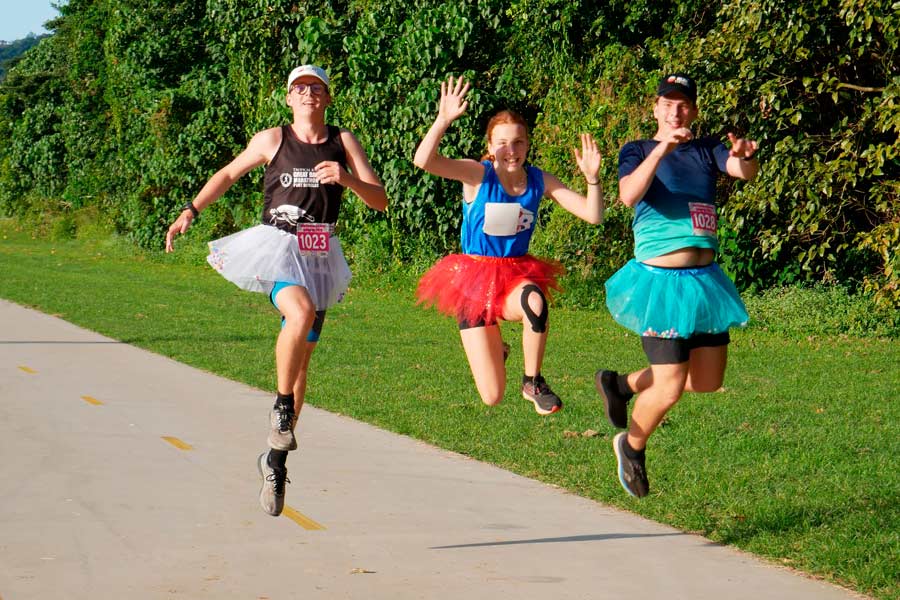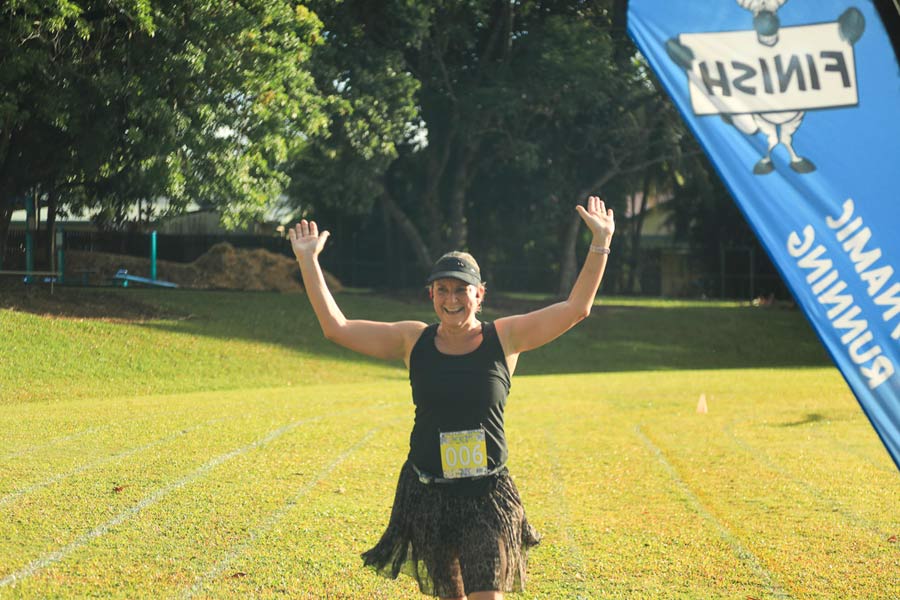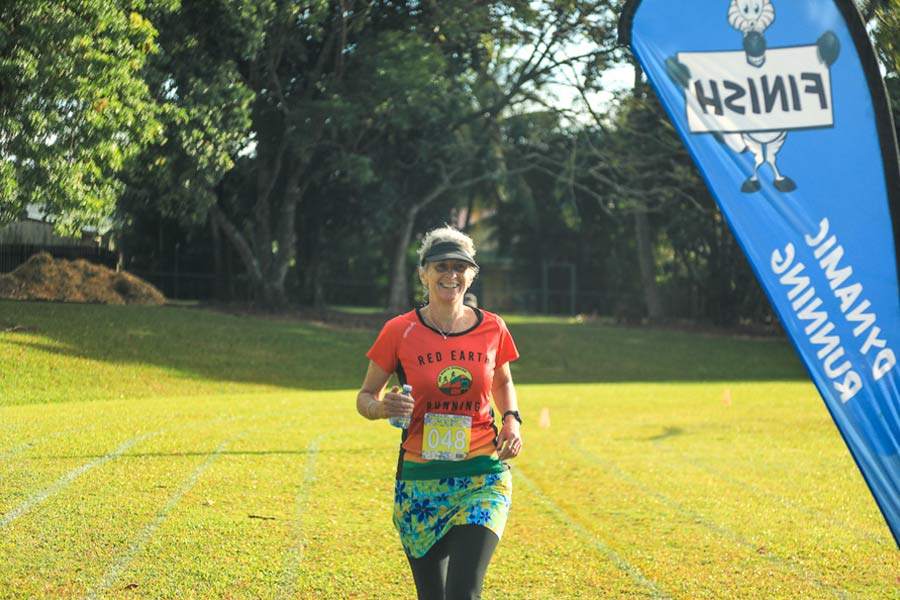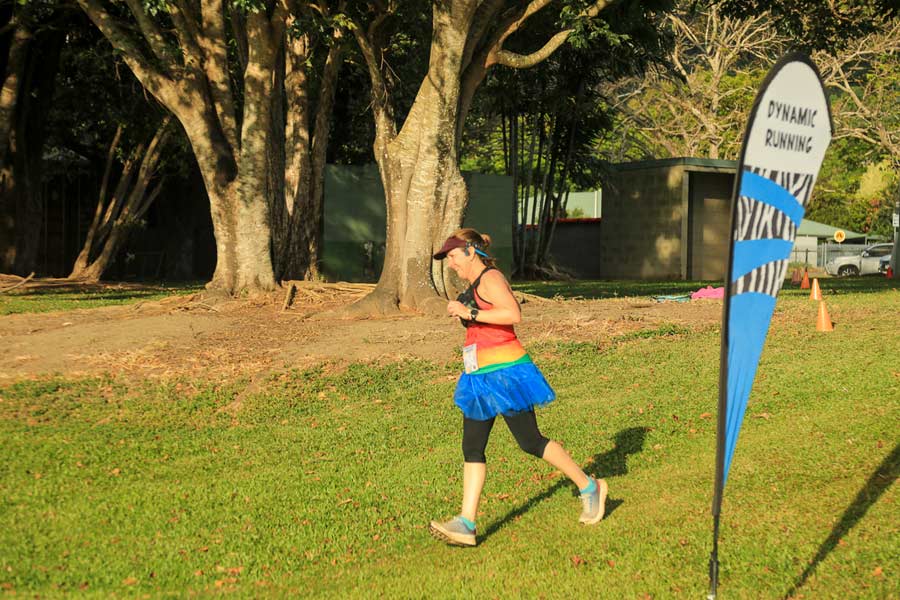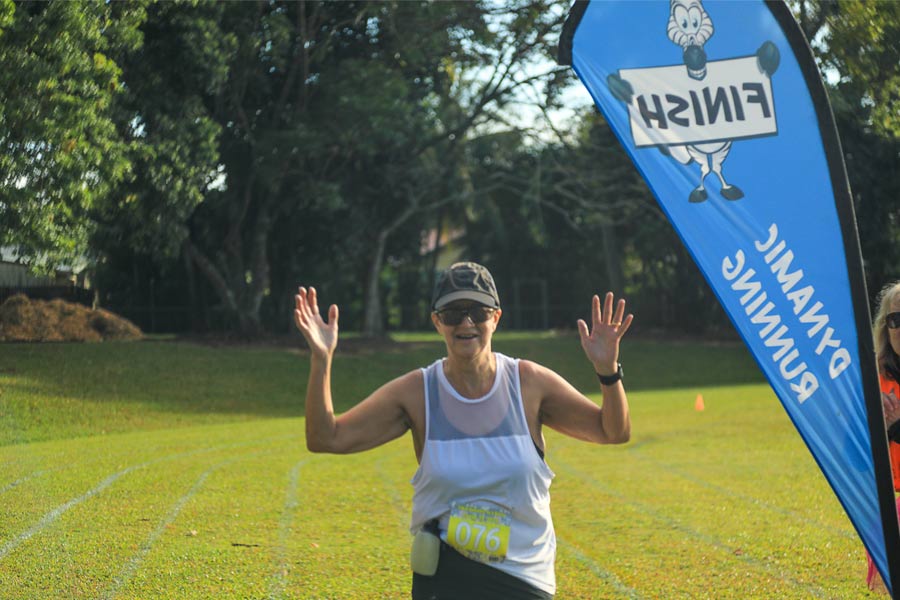 For Cairns-based coaches Lorraine and Larry Lawson, and many of Dynamic Running's club members, running is an important part of who they are. It is their passion, and they want to share this with others.
Dynamic Running coaching techniques and principles suit anyone who wants to learn to run (we call you 'Beginner Runners') and those who want to run faster and further (we call you 'Intermediate Runners').
We teach you how to run, and then we teach you how to run better
We provide a friendly, supportive and inclusive environment
We cater for all fitness levels
Beginner Runners receive encouragement and motivation
Intermediate Runners are challenged
You receive instruction on how to structure your own training programs
Inspiring, professional, qualified coaches
TIME TO DRESS UP
DYNAMIC IN A DRESS
There is one Dynamic in a Dress event – select 21.1km or 10km as your race distance. 
The event is open to males and females. Participants of all levels of fitness (walkers, recreational and competitive runners) are welcome to compete. There is a female-focus to celebrate female runners; their strength and their ability to use running as a means to connect with one another. Join us and run in fashionable, feminine running gear.
THREE DAYS IN THE BUSH
3 MARATHONS IN 3 DAYS
3M3D Grand Slam, 7 - 9 JULY 2023
Signature event in Cairns
FIG TreE 21.1km or 10km, 8 JULY 2023
Cairns Marathon, 9 JULY 2023
The original Cairns Marathon and the best.
Lake Morris Road Race, 9 JULY 2023
The 3 Marathons in 3 Days event has many entry options, all run over the same course, but varying in distance and days. 2022 is the 11th year the 3M3D Grand Slam and Cairns Marathon is being held.
ultra trail race & relay
60km K2PD Ultra and Relay
This Point-to-point race starts just off  Kennedy Highway in Kuranda and follows Black Mountain Road and the Bump track to Port Douglas. The course runs  through native rainforest, open eucalypt forest,  pine plantations and crosses picturesque creeks. It is a scenic course incorporated  in the Mowbray National Park within the Wet Tropics World Heritage Area. The  pyramid-shaped Black Mountain is a prominent feature of the race. The tropical  rainforest is home to the endangered southern cassowary, a flightless bird that  can grow to  two metres in height.
Tackle the 60km as a solo runner, or get a bunch of mates and take part in the 4-leg relay.
WHAT OTHERS ARE SAYING...
When I first joined I only intended on training for another half marathon as I thought that a marathon was not achievable for an average runner as myself. I have now completed countless half marathons, 2 marathons, 64km ultra and 3 marathons in 3 days! This would not have been possible if not for Lorraine and all the Dynamic Running members who have encouraged and inspired me all the way. Being a member of Dynamic Running has changed my life and made me realise anything really is possible, in running and in life.
I joined Dynamic Running Club in 2015 never having run more than 5km in my life and being a senior (over 55 years) I didn't think I could run. Since joining I have run two half marathons and the Rome Marathon in April 2017 for my 60th birthday.
My whole outlook on ageing and life has changed for the better thanks to Lorraine and her encouragement and guidance. I also enjoy the company of other members who are also encouraging and make running fun.
I had never been a member of a running club before, as I had always felt intimidated, and scared I would be left behind! From first meeting Lorraine, she has encouraged and inspired me. I have entered races, and achieved times, I would never have believed I was capable of.. The club's members are friendly and supportive of each other, and this is a reflection of Lorraine's leadership. She has great communication and organisational skills, so club nights and events run smoothly and are fun, for everyone involved.