NEXT EVENT
THE NEXT KURANDA 2 PORT DOUGLAS RACE IS ON 18 AUGUST 2024.
K2PD
This point-to-point race takes place in August and starts just off Kennedy Highway in Kuranda and follows Black Mountain Road and the Bump track to Port Douglas. The course runs through native rainforest, open eucalypt forest, pine plantations and crosses picturesque creeks. It is a scenic course incorporated in the Mowbray National Park within the Wet Tropics World Heritage Area. The pyramid-shaped Black Mountain is a prominent feature of the race. The tropical rainforest is home to the endangered southern cassowary, a flightless bird that can grow to two metres in height.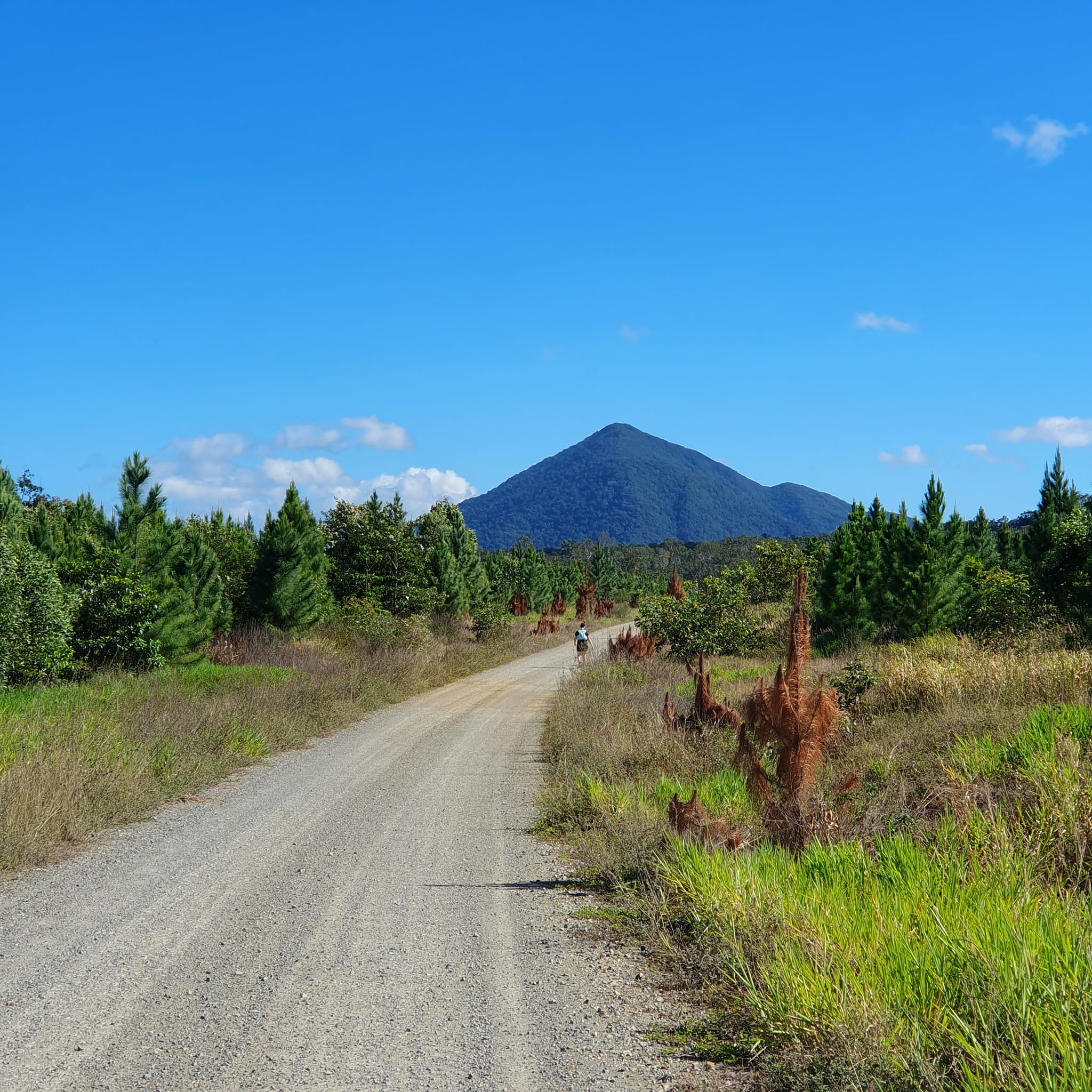 It's not often that we have such a spectacular view of Black Mountain. In the 13 years of the event, we've only been able to see if for the past 3 years or so, after some pine trees were removed. But they are slowly growing back, and it will not be long before we, once again, lose our great view.
DATE
18 August 2024
COMPETITIOR INFO PACK
Available via email prior to the race.
RACE DIRECTORS & CONTACT
Lorraine Lawson and
Heidi Sweeting
. Email:
TRANSPORT
The 60km Kuranda to Port Douglas race starts on Black Mountain Road approximately 200m from the Kennedy Highway turn off. It takes about 30 minutes to drive from Cairns Esplanade/CBD to the start of the race. There is street parking at the start. This is not an easy location to return to, so book the bus if you are a visitor into town or don't have someone picking you up in Port Douglas to drive you back to your car at the start.
The bus departs and returns to Cairns. 
No transport is provided for late entrants or those in the 60km K2PD Relay.
STATUS
Non-certified solo trail race of 60 km, or 60 km team relay (2-4 runners).
RACE HISTORY
Inaugural race was held on 28 August 2011.
RACE RECORDS
60km K2PD SOLO Ultra
Male: Joshua Duff (2023) in a time of 4:56:15 New Course record for the 60km course.
Male: Glen Robinson (5.14.07, course record set in 2013 – original 64km course)
Female: Nikki Wynd (5.52.28, course record set in 2013)
64km Relay: CWL in 4:46:51, 2018. Leg 1 (14km) Tim Jack, (Leg 2) 14km Craig Langdon (2:12) ; Leg 3 (21km) John Schreuder (1:28); Leg 4 (16km) Andrew Packer (1:06:51)
PAST WINNERS
64km K2PD Ultra
| | | | | |
| --- | --- | --- | --- | --- |
| Year | Male | Time | Female | Time |
| 2011 | Ben Carter | 5:45:14 | Julie Sager | 6:41:58 |
| 2012 | Oliver Zambon | 5:27:19 | Mandy Noble | 6:06:18 |
| 2013 | Glen Robinson | 5:14:07 | Nikki Wynd | 5:52:38 |
| 2014 | Steve Cunningham | 5:55:47 | Yvette Edward | 6:09:18 |
| 2015 | David von Senden | 6:04:17 | Sonya Alba-Miller | 7:02:06 |
| 2016 | Bryan O'Mahony | 5.31.23 | Alena Scurrah | 6.55.52 |
| 2017 | David von Senden | 5:36:50 | Alena Scurrah | 6:32:39 |
| 2018 | Leo Schoepflin | 5:27:22 | Janelle Johnson | 6:11:57 |
| 2019 | Troy Ireland | 6:04:48 | Alena Scurrah | 6:23:53 |
| 2020 | Adam Fox | 5:27:05 | Stephanie Auston | 5:18:52 |
60km K2PD Ultra
2021
Alberto
Garcia
Gomez 

5:34:32

Julie Lightfoot (2nd overall) 

5:37:02
| | | | | |
| --- | --- | --- | --- | --- |
| 2022 | Evan Kelly  | 4:58:20 | Hannah Mendes  | 6:37:51 |
| | | | | |
| --- | --- | --- | --- | --- |
| 2023 | Joshua Duff | 4:56:15 (60km course record) | Akane Goode | 6:26:16 |
64km K2PD Relay
| | | | |
| --- | --- | --- | --- |
| Year | Team | Time | Team members |
| 2011 | 1 team | No time recorded |   |
| 2012 | Chicks with Kicks | 6:11:55 |   |
| 2013 | ACE | 5.49.02 |   |
| 2014 | Vanessa's Team | 6.08.41 |   |
| 2015 | Trail Chicks | 7:29:19 | Maria Pin, Mara Rooks, Rosie Cifuentes, Susie Alba |
| 2016 | Basilisk Boys | 5.48.45 | Neil Bertram, Neal  Kleve, Adrian  Darveniza and Richard  Curzon |
| 2017 | Trinity Chicks | 5.28.47 | Tracey Mcdonald, Legs 1 & 2, 27km; Akane Goode, Leg 3, 21km; Angel Hayes, Leg 4, 16km |
| 2018 | CWL | 4:46:51 | Leg 1 14km Tim Jack & Leg 2 14km Craig Langdon (2:12) ; Leg 3 21km John Schreuder (1:28); Leg 4 16km Andrew Packer (1:06:51) |
| 2019 | 3 chicks and a biker | 5:53:13 | Leg 1 13km Wes Swindale, Leg 2 13km Katherine Johnson, Leg 3 21km Kristin Soda, Leg 4 17km Christy King |
| 2020 | The young and the breathless | 6:08:10 | Leg 1 13km Jeanette Gegg, Leg 2 13 km Kylie Brown, Let 3 21km Robert Clause, Leg 4 17 km Liam Madin |
| | | | |
| --- | --- | --- | --- |
| 2021 | Redshank 4  | 5:23:44 | Not specified |
| | | | |
| --- | --- | --- | --- |
| 2022 | The Bogan Triathletes | 4:54:44 | Leg 1 13km Nadine Hunt; Leg 2 14km Josh Garnett; Leg 3 17km Jackie Staples; Leg 4 16km James Farrell |
| | | | |
| --- | --- | --- | --- |
| 2023 | A Rose Among the Thorns | 5:46:03 | Leg 1 13km Frank Finn Leg 2 14km Michael Conolly Leg 3 17km Christine Twidale Leg 4 16km Bruce Madin |
RESULTS
RACE ORGANISERS
Dynamic Running Ltd. 2014-onwards
Cairns Road Runners and Triathlon Club 2011-2013