Top Tips to make your registration process easier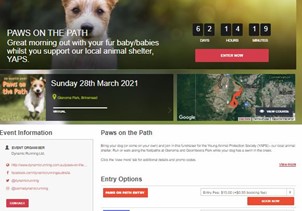 Go to Race Space
Put in your race location e.g. Cairns, click Filter Events.
View your event e.g. Paws on the Path
Read the blurb about the event (it also gives you relevant promotional codes).
You may need to click the 'View More' button on the right hand side of the page to reveal all the details.
Check the dropdown menu for the entry you are interested in. Select the entry option that applies you. Click on 

BOOK NOW

.
Read the blurb about discounts so you get the best value for money. Add another event, or *add additional entries for the current event.
*This is a great way to add your team members or family to a registration. You pay for the entries and then forward the details for the other person(s) to complete their own registration.
This bit is important: By default you'll be on the 'Use Speedy Checkout' tab (immediately below the banner/name of the event) – this allows you to select the event and pay. You'll then receive an email asking you to complete your details.
BETTER yet, will be to select the 'Register Info Now' tab and complete your details straight away. The system will remember this, so next time you just need to tick the 'Prefill my info' tab and it will update all your details.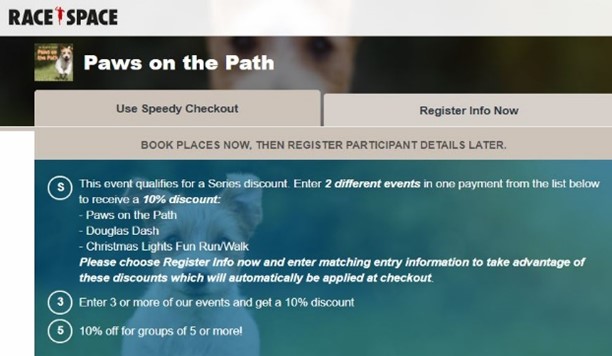 Complete your registration, check your confirmation email and sit back and wait for race day!
P.S. Once you are done, you get an email! Remember to check your JUNK Folder, as your registration confirmation email is probably there.