There are lots of reasons why people pay $95 for a local race.
1. They don't need to spend the money on petrol, air travel or accommodation. Yet they get a well organised event in a great safe location all on footpaths (no running over wet grass).
2. They are supporting the new running club in town establish only two years ago yet providing plenty of free training, cheap club runs and the Cairns parkrun on a weekly basis with a very limited budget.
3. They are supporting two local charities – the Ruth's Women's Shelter Cairns and the Ronald McDonald Family Retreat Palm Cove.
4. As a reward for hard training over the past few months. You ARE entitled to spend some money on yourself sometimes!
5. To support their running buddies, friends, family and work mates.
6. But most of all: For the medal, of course!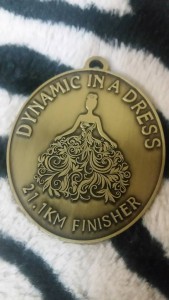 The 10km competitors pay $60 and get all the benefits mentioned above except that you have to stop running sooner.
And if you don't want to pay that, join in the 5km race for $15 or the Family Fun Run/Walk for $8.
Excited? Then hurry up and register as just about all the money you spend stays local, supporting our community.
Late fees kick in at 9.01pm 23 March 2016 and you'll be paying $105 then!